Short hair, don't care is the attitude for this article. I know it sounds like a cliche but it's true. If you haven't had short hair, you don't know the feeling so these photos of great pixie cuts may temp you to go short! When you do transform from having long hair to short hair, you feel so refreshed.  Trending hairstyles nowadays are becoming shorter and shorter.  The shorter the better, in many people's eyes.  To be honest, having looked at our selected pixie cuts, we can see why.  It is a very convenient haircut for busy women.
Many people choose to have short pixie cuts because they cannot maintain long hair.  They live a hectic lifestyle and realize that shorter hair works better for them. Other love short hair regardless of their lifestyle and many celebrities opt for a short cut too.  There are so many pretty, pixie cuts to choose from.  If you have thinner hair, pixie styles may work better for you as your hair will feel fuller and adds an element of height and dimension.
1. Pixie Cut with Bangs
This is a classic, neat and sexy pixie cut. Mix a classic pixie cut with bangs and you get this.  It consists of one heavy side and the other side, is shorter.  Even though it's short, this style is very versatile.  You can dress it up and down.
2. Longer, Messy Cut with Bangs and Highlights
A pixie cut doesn't have to be very short. Take this longer pixie version with bangs and highlights.  This is an ideal hairstyle for those not wanting to go too short and still want full texture and a heavy fringe.
3. Short Cut for Natural Hair
This is a sexy cut for naturally curly hair. Show off your sexy curls with this short pixie cut. It has minimal maintenance and looks perfect for any occasion.
4. Blonde Pixie Cut with Long Bangs
If you are looking for a total change, have this style. Dyeing your hair blonde and having a short pixie cut with side bangs, looks great.  One side is considerably shorter than the other and it works.  Having a new hairstyle can be an experience alone but when you go for a radical change and have your hair dyed too, you feel great.  Treat yourself to a makeover and have a pixie cut and colour for summer.
5. Longer Pixie Cut with an Undercut
A pixie cut will emphasis your face. If you choose to have this style, a longer pixie cut with an undercut, it will still show off your beautiful face.  At the same time, you will have the longer hair to play with.  Many people who choose to have the chop to a pixie cut, go for a longer pixie style before having the traditional shorter pixie.  This is because they aren't too sure if the style will suit them or if they will like it.  Nine times out of ten, they will revisit their hairdresser to go shorter.
6. Asymmetrical Pixie Cut
Asymmetrical pixie cuts are as popular as ever. Frankie from The Saturdays is a great lover of this style.  It is an all year round style and looks so good with outfit.  It's girly and looks classy.  Victoria Beckham also had this style at one point, both as a blonde and brunette.
7. Curly Blonde Pixie Cut
Pixie cuts do not have to be straight. If you were to ask someone what they thought was a pixie style, they would probably say very short and straight.  If you said to the same person that this is also a pixie style, they would be shocked.  We think adding curls to pixie cuts look amazing and unique.  They are so cute and sexy.  The curls will add texture and make you hair fuller and thicker.
8. Grey Pixie Cut
Come on girlies, grey is trending and you could be the highest fashionista by mixing grey and a trending pixie cut! We all love the grey colour that everyone is going crazy about.  It is a soft, delicate hair colour and hairstyle.  It has a retro vibe about it and stands out from the crowd.
9. Purple Pixie Cut
If you have been there, done that with grey hair, try purple hair. Even if you haven't tried grey hair, purple alone is a powerful, striking colour with vibrancy and it's fun.  Teamed with a pixie cut and you will be catwalk ready.  It will complement your face and you will look amazing.  Remember, if you have dark hair,  to achieve a light purple colour, you will have to bleach your hair at the hairdresser then they will add the colour toner after.  This is to lift the colour beforehand and then you will achieve better results.
10. Blonde Pixie Cut for Round Face
This is the perfect hairstyle if you have a round face. Pixie cuts do look good on all kinds of hair types and face shapes but specific haircuts can flatter your face even more so.  This blonde pixie cut will enhance your round face and you will look fantastic.  Having side bands will narrow the shape of a round face.  If you look at the celelbrities will round faces, they all look great with a pixie cut.  Take Agyness Deyn and Keira Knightley, they both have looked stunning with this style.
11. Vintage Pixie Cut
Are you feeling this Betty Boop style?  We are!  You too can channel your inner Betty by getting this hairstyle. This is an amazing vintage hairstyle that will show off your character and style.  It looks exceptionally great with darker hair.
12. Short Pixie Style for Black Women
Many people tend to think that a pixie haircut won't suit them. How wrong are those people!  Today there are so many short haircuts that are so versatile and look great.  Pixie cuts on black women, whose hair is naturally thick and curly look stunning.  This pixie cut is short and the hair is relaxed which gives off a sexy pixie cut.
13. Pixie Cut for Thick Hair
If you have thicker hair, a pixie cut will look great on you. Having a pixie cut will instantly boost you hair as you hair is thicker and creates that extra boost.
14. Short, Beige Blonde Style
Going short and blonde is the perfect pixie cut for many people. We are thinking this is very Emma Watson.  It is low maintenance, elegant and classy.  It will enhance your eyes and make you feel fantastic!
15. Curly, Red Pixie Cut
Rock your curls. If you love your curls and want to embrace them, dye you hair a vibrant colour like this red shade and have a pixie cut.  Everyone will comment on how fabulous you look!  So don't delay, go and book your hair appointment so you are ready for summer.
16. Cute Pixie Cut with Long Bangs
Having a pixie cut doesn't have to be daunting. Many people that go from longer hair to short, pixie cuts are petrified because all they know is longer hair.  If you really are set on having a pixie cut and your hair is currently long, then why not opt for this style to begin with.  It is still a pixie cut but with the comfort of having longer bangs, which will make you feel confident.  When you do get used to this, you may chop off your bangs!  Try it and see.
17. Voluminous, Layered Cut
The traditional pixie haircut, is short and quite flat. If this is not for you, choose this voluminous, layered pixie cut.  It will always be bouncy and full of live.
18. Short, Platinum Blonde Cut
Are you ready to join the platinum pixie club? Brighten up your hair and go platinum blonde.  It is a gorgeous colour for this hairstyle if hairstyle and will show you hair and your face off.  Will you be the next member?
19. Long & Curly Style
We are loving this heavy long and curly pixie cut. Having a heavy fringe will give the illusion that your hair is longer but the back will be short.  It is very sexy and chic!  It is a great style for a daily or evening look.
20. Edgy Pixie Cut for Bold Women
Take the bold and brave route with this pixie haircut. Show your character and fun side with this kick ass style.  It's striking, stunning and will make your edginess shine through.  The colour will bring attention and then it will show off your pixie cut!
21. Longer, Shaggy Pixie Cut
Shorter pixie cuts aren't your thing? Short pixie cuts may be too scary to even think about for some girls.  This is understandable as we know our hair means a lot to us.  If you are thinking about cutting your hair and love the thought of a pixie cut but don't want to go that shirt, don't worry, we have thought about you too!  The photo above shows a longer pixie, shaggy cut, which we love.  It is shaggy style means you can play about with the longer lengths and style it in many ways.  It is versatile and looks great in this colour!
22. Longer, Blonde Cut
Check out this longer pixie cut with a choppy and edgy style. This looks stunning and with the blonde tone, it shows off the hairstyle even more.
23. Super Long Bangs + Short Back
This hairstyle looks great from every angle. This oozes sexiness and style.  These super long bangs create a style of its own.  It's fun and girly and you can style it so many different ways every day!
24. Shaved Blonde Pixie Cut
Shaving your hair is becoming increasing popular. I know it may come as a shock to you but it is true.  Many girls are opting for the shavers not the scissors now.  A daring and bold cut which will definitely get a lot of attention.  It is a fabulous hairstyle to show off your gorgeous face.  Even though it is quite a short style, you have the ability to play with the longer section of your hair.  You can even tie it back or cover the shaven parts.
25. Classy Cut with Bangs
This pixie cut is so classy and sassy. The style and colour is great.  If you have ever wanted to get up in the morning, look in the mirror and not have to do a lot to your hair, this is the style for you.  It is low maintenance and you can style in differently every day. Everyone will love it!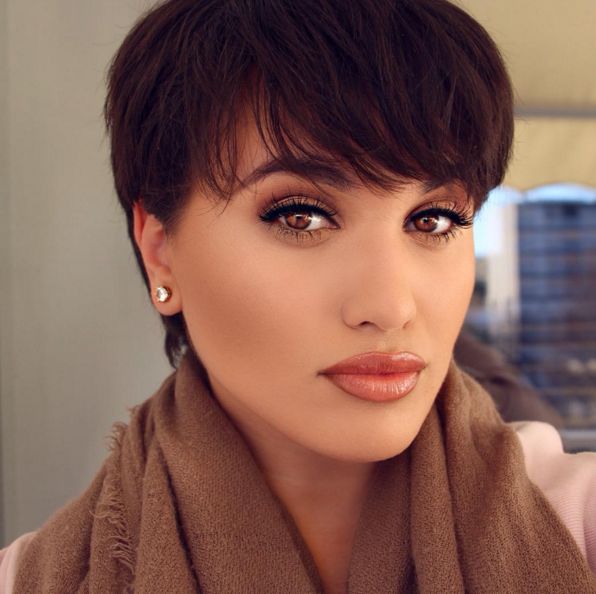 26. Two Toned Pixie Cut
A pixie hairstyle mixed with two colours, looks great. See for yourself in the photo above.  You can see that the sides are a dark brown shade and the heavy top is a lighter shade.  It is the perfect contrast and again, you don't have to always have the same style.  Maybe change your parting and have the heavier top, over the other side.  Whatever you decide, will look great!
27. Longer, Layered Pixie Style
Layers can help thinner hair feel thicker and textured. Having layers can add texture, weight and make you hair feel thicker and fuller.  Take this sassy longer, layered pixie style.  The longer side looks healthy and so shiny.  If you are a fan of voluminous hair, add a little hair product to lift it even more so!
28. Greyish Blue Style
We have seen how good blonde, brunette, grey, red and purple look but what about blue? If you love the blue shades, you will love this.  It is a cool blue tone which will compliment any skin tone and will stand out from the crown.  We are totally loving this.
29. Pixie with Curls and Swirls
It is all about the swirls and curls for this style. Go for a pixie style with an edgy.  Take it back to the vintage swirls and curls and you will not regret it.  It is sexy, sassy and sophisticated.
30. Long Bangs + Undercut
Go for it with this long band and undercut style. Having mentioned it earlier in this article that shaving your hair is quite popular nowadays, the undercut is also popular.  This is a slightly less daunting shaving experience with your hair.  It tends to be a small section of your hair, which can be easily covered with the longer sections.  Are you feeling it?  Go for it!
31. Pixie Cut with Choppy Bangs and Longer Sides
The choppy pixie cut is still around guys so don't forget about it. It has been around for quite a long time and it never goes away.  With all the new trending techniques and hairstyle coming into play, we tend to forget about the older classic styles.
32. Pastel Pixie Cut
We all love the pastel colours for pixie haircuts. The best thing about experimenting with pastel colours with short pixie styles is that if you don't like it, start again!  It's not like you have longer hair to dye, so have fun with your pastel colours this summer.
33. Shorter Back, Longer Front
This is ideal if you want a longer fringe. Having a great pixie cut will enhance your face but if you want your hair to be the main focal point, choose a longer front with a shorter back.
34. Messy, Modern pixie Cut
Messy haircuts are a girl's best friend. We don't need to worry too much about our hair during the day with a messy hairstyle.  Messy hairstyles are perfect for any occasion, day or evening.  They look great with any outfit and will show off your sassy side.
35. Long Blonde Pixie with Choppy Bangs
Blonde have more fun… As the saying goes.  Are you willing to try this out?  Opting for a light blonde colour will show off your pixie cut even more so than darker shades.  It will highlight all the choppy cuts and bangs.
36. Cute & Short Look
This cute and short pixie cut will draw attention to your face. If you were to walk into a hairdressers today and say "I want a short pixie cut" this is what you will get.  It is the classic, short and basic pixie cut that speaks for itself.
37. Grown Out, Grey Pixie Cut
Once you have a great pixie cut, enjoy it when it's growing out. When you walk out of the hairdressers once you get your pixie cut, you will feel fresh and great.  Once you get a great haircut, when it starts to grow out, it will look amazing too.  Embrace the growing out stage by celebrating with a unique colour such as grey.  Don't rush to the hairdressers to have it trimmed again, you will look the longer grown out, grey version.
38. Wavy Longer Pixie Cut
This is for naturally wavy hair. If you have naturally wavy hair, pixie hairstyles look so cute and girly.  They will frame your face and look adorable.  This photo shows a longer pixie haircut with waves and you can see how good it looks!
39. Asymmetrical, Layered Pixie Cut
Adding layers will add texture. Instead of just adding layers to your pixie cut, play around a little and add an asymmetrical side.  It will compliment your hairstyle and your face.
40. Curly Pixie Cut with Design
If you are feeling the shaven pixie look, then maybe you want to customise your hairstyle. Having a unique hairstyle feels great and nobody will have the same.  Be your own trend setter with this shaven design.  You have the trending pixie hairstyle so why not make it your own.  A gorgeous patter, design, or wording can be shaved into your hair and we think it looks great.
41. Short & Slicked Style
If you already have a pixie cut and need inspiration on how to style it, take a look at this. Or maybe you are looking for a short and easy pixie hairstyle that you can maintain quick and easy every day.  Look no further than the short and slicked style.  It will highlight your face and bone structure and will look amazing for any event.
42. Voluminous & Layered Pixie
Who doesn't love bouncy and voluminous hair. Anyone that says they don't are fibbing guys.  When we have healthy, uplifting hair, we feel great and we love to run our fingers through our hair.  This is the ideal style for that.
43. Pixie Cut + Short Bangs
This is a classic and timeless pixie hairstyle that will wow everyone. It will show off your gorgeous face and we can guarantee than many of your friends will follow in your footsteps, so be the first to shine.
44. Short Pixie Cut with Side Bangs
This is another shorter pixie cut with low maintenance. It is simple yet effective and so sexy.  Who needs to have a lot of hair hiding our face, when you can show it off like this!  Book your hairdressers appointment now!
45. Classy, Longer Cut
Classy, sophisticated, elegant and chic. This hairstyle is all of those things wrapped up in one.  You may not need to use any hair product on a daily basis with this cut, only when you want to style it differently.  It will look amazing when you wake up and amazing when you go to bed.  It is great for all hair types, from thin to thicker hair.  It also looks great for any hair colour, light, brunette, dark or vibrant colours.
46. Blonde Pixie Cut with Purple Bangs
Mix it up a little by adding a bright colour. Pixie hairstyle are far from boring hairstyles!  You don't have to dye the whole head but to your long bangs only.  This is a sexy, bold and the purple  goes well with the blonde shade.  When you dye your hair this light blonde, the purple will be a great, vibrant shade and it will look stunning.  You can always choose another colour but we think purple looks good.
47. Short Cut + Choppy Bangs
Choppy haircuts are a favourite for many people. They are raw and edgy. If you a choppy style, the colour can enhance the cut and make it look beautiful.  Make sure you have a trusted and great hairdresser to cut your choppy locks.  The better the cut, the better it will look when growing out.
48. Short Sides, Long Top Style
Glam, glam, glam!  We are feeling this. This is a super, uber fashionista hairstyle.  Calling all the trend setters and stylist, this is an amazing hairstyle that cannot be missed.  Look how sexy, edgy and unique she looks.  It's multiple trending hairstyle in one… you have the pixie cut, the shaven sides, the pattern in the shaven sections, the colour and curls!  What more could you want?
49. Super Long Bangs
Channel your longer pixie hair with this style. Don't be afraid to go from long hair to short hair.  They do say, short hair, don't care and we understand that completely, especially if you have been through this experience.  Going from long hair to a short pixie style is like a whole new world for you.  It is a start of your short hair journey in life and if you don't seem to like it, it will soon grow, so enjoy it while it lasts!  This is the perfect solution for you if you want to keep your long hair around your face.  Have a short pixie cut at the back but keep longer bangs.  You can always tie your bangs back or style it differently.  You have the security of having a variety of different styles you can choose from.  Don't think that pixie cuts, need to be short all over.  This hairstyle above just goes to show, how good a longer fringe can look and it still have the pixie style about it.
50. Short Layered Cut + Bangs
This is a popular style with many celebrities. Who says you have to have long hair to feel feminine and sexy?!  They are crazy.  They need to live in the real world where many girls are opting for a short pixie style to show off their gorgeous locks inside and out.  This is a fun, sleek and sexy hairstyle and will look amazing for any occasion.
51. Trendy Pixie Cut
Have a trending pixie cut so you are on-trend. Opting for a short pixie cut will instantly draw attention to your face.  If you love your face and love to show it off, this is the ideal hairstyle for you.  Many people love shorter hair and we can see why from all of these hairstyles in this article.  Most girls hide their face with hair and there's no need to.  Show the world how fabulous you are by concentrating on a hairstyle that will do this for you.  Try it and see for yourself, you will feel liberated and sexy.
52. Icy Pixie Cut
Looking for a trendy haircut and color? Then check out this hairstyle. Here we have an icy pixie cut. The hair around the back and sides is quite short and the hair is longer on the top. This hairstyle has been finished off with a cool, light blonde color. It is an edgy and stylish hair idea and it will be great for the spring and summer.
53. Short Pixie Cut with Curls
Pixie cuts look amazing with curly hair too. Here is a beautiful example. This hair idea features wavy short hair around the back and sides of the head with long curly hair on the top. It is a chic hairstyle and it will suit everyone. You can recreate this look or have sleek and straight hair at the back and sides.
54. Glam Short Hair
Glam up your look with our next hair idea. This is a short pixie that is slightly swept to one side. It is a chic hairstyle that can be dressed up or down. A pixie like this is perfect for the ladies that want a simple and trendy haircut that is easy to wear and style. It will look gorgeous in any hair color.
55. Long Red Pixie
You don't have to choose a pixie cut with very short hair. A lot of pixie hairstyles have shaved hair but our next idea shows that you can have longer hair too. This pixie is longer on the top and only little shorter around the back and sides. It is a gorgeous hair idea and it is great for anyone who isn't ready to try the shaved looks. The hair color is awesome too!
56. Trendy Pixie Cut
Next, we have a trendy pixie idea to show you! The hair on the top of the head is quite long and we love the textured style. As the hair is a little longer on one side, it creates subtle side swept bangs. It is a beautiful hairstyle and it will give you a boho beachy look just in time for the spring and summer.
57. Cute Pink Hairstyle
Want to transform your hair? Then this is a stylish way to do it. This is a long pixie cut that has been dyed light pink. The pink hair is so trendy and a color like this will make you stand out from the crowd. You can choose a pink color like this or try another vibrant shade. Recreate the haircut or try pink on any other short cut that you like.
58. Long and Textured Pixie Cut
Our next hair idea is one of our favorites! The hairstyle is another long pixie cut with a textured style. It is a casual and relaxed pixie and it looks effortlessly stylish. We also love the hair color, and warm highlights like these will lift and brighten the hair. A hairstyle like this will suit everyone and it would be great for the ladies that are trying short hair for the first time.
59. Curly Pixie Cut with Side Swept Bangs
Love the hairstyles with bangs? Then you need to check out this next look. This pixie has short hair around the back and sides but the hair on the top is quite a lot longer. All of the hair has been styled onto one side which creates side swept bangs. The purple color is fabulous too. You can try the whole look or try the cut without the purple color.
60. Chic and Simple Short Pixie
Next, we have a chic and sophisticated style to show you. The hair is short and it is a little longer on the top. It is a trendy haircut as it features baby bangs. Baby bangs are shorter than average bangs and the style has become a must-have, the celebs love the look too! This is beautiful hairstyle and it will suit everyone.
61. Curly Pixie
Have you got curly hair? Then you need to check out this hair idea. Here we have a short pixie with curly hair on the top. The curls make the short cut look so stylish. If you want a bold new look then try the silvery grey color, but you can always try the cut with your natural hair color.
62. Edgy Pixie
Our next idea is a little edgy. The hair is textured, has curls and is very short around the sides. It is the perfect hairstyle for letting out your inner rock chick! It is a versatile haircut and it can be dressed up or down. Hair like this will be easy to style and easy to wear. We love this pixie cut.
63. Sleek and Modern Short Haircut
If you have had the same hairstyle for years and are now bored and want a change, then this is a hairstyle for you. This pixie is quite long and it has a side part. It is a sleek and modern haircut that will give new life to your hair. You can try the pixie in black or in any color of your choice.
64. Light Blonde Long Pixie Cut
Need a new hairstyle for the summer? Then take a look at this! Here we have a long pixie cut with light blonde highlights. The short cut is great for the summer as it will keep you cool and looking stylish too. Blonde highlights like these will give your hair a sunkissed look ready for the warmer season. Recreate this hairstyle or you can try warmer highlights too.
65. Swept Back Pixie
Next, we have trendsetting look that will make you stand out from the crowd. The hair is cut short around the back and sides while the hair on top is long and swept back. Styling your hair like this gives you a gorgeous pixie cut and it will show off your edgy and unique style.
66. Stylish Short Pixie Cut
Our next idea is another stylish short cut. This one is also styled on one side and has a textured look. There are also blonde highlights too. The blonde looks so stylish and you should consider adding blonde to you hair if it's feeling a little dull. It will refresh your hair ready for the summer.
67. Trendy Hair Idea
Love the icy grey hair colors? Then check out this next style. This pixie cut is short and is styled straight which gives it a sharp and edgy look. The grey color finishes off the hairstyle perfectly and gives it a trendsetting vibe. It is an awesome hair idea and it is perfect for the bold ladies who want to make a statement.
68. Purple Pixie
Another cool color you can try is purple! This pixie cut shows how to wear purple in style. The haircut featured here is quite long, has bangs and is dyed in a dark purple shade. Purple is great for anyone who wants to try something new. If you don't want to be too bold, then you can try an even darker shade and with highlights instead of full head color.
69. Curly Short Pixie Cut
Next, we have another curly hair idea. The hair is very short around the back and sides while the hair on top is longer and very curly. Not only are the curls gorgeous, but the hair color is too. Hair like this is chic and super stylish, it will suit everyone. You can recreate this look or try the style in a color of your choice.
70. Fiery Pixie Cut
If you love the vibrant colors, then this hairstyle is for you. The hair is graduated at the back which means the hair is very short and gets longer towards the top. This creates a unique pixie cut that stands out from the rest. What we really love about this hairstyle is the color, it is a fiery red shade. Hair like this is perfect for the ladies that want a bold new hairstyle that will make them look and feel amazing.
71. Short Cut with Side Swept Bangs
Our next idea is perfect for the ladies that want a short haircut with bangs. The hair is very short around the back and sides while the hair on the top is long and styled into side swept bangs. The hair is curly and full of volume which means the bangs really make a statement. It is a chic haircut that will keep you looking stylish every day.